Oxnard, CA, offers a robust and competitive real estate market for primary residences as well as short-term rentals such as listing your home on Airbnb and long-term rentals. Purchasing a waterfront home in Oxnard may be the right decision if you're considering Californian real estate investing—but want to avoid the dramatically priced markets further south.
The following is what you need to know about the Oxnard real estate market in advance of hiring an agent, including the many ways you can invest, and tips on securing the property that works best for your needs.
The Oxnard waterfront market
Located on California's southern coast, Oxnard is Ventura County's most populous town. Located just 60 miles north of Los Angeles, and 35 miles from Santa Barbara, Oxnard is a popular place for tourists as well as those who wish to live on the coast either part or full time. The Oxnard real estate market was one of California's hottest in 2021 marked by low inventory, a high number of sales, and a median sale price that increased by more than 23% in just one year.
Though mortgage interest rates are predicted to rise in the coming months, they will still stay low enough to entice luxury real estate investors to make a move. It's likely the SoCal market will remain hot for the foreseeable future, with small lulls here and there.
Pros and cons of buying waterfront property
As with all real estate transactions, there are plenty of pros and cons to buying property on the water. Before you make a final decision about working with an Oxnard real estate agent to invest in waterfront property, consider the following:
Pros
High investment potential:

If you plan to purchase an Oxnard waterfront home in the hopes of renting it out, your property will be much more desirable to renters — both long-term tenants and short-term Airbnb visitors — if it's located on the water.

The views are guaranteed:

If you're building a home in a new development or purchasing an existing home where there is nearby construction, you never know what your views will end up being. When you buy property on the water, you're guaranteed beautiful views of the water with no potential of future obstruction.

Strong appreciation:

Waterfront homes tend to

appreciate quicker

than their non-waterfront counterparts. Investors in Oxnard waterfront homes can expect their properties to quickly gain equity after purchasing them.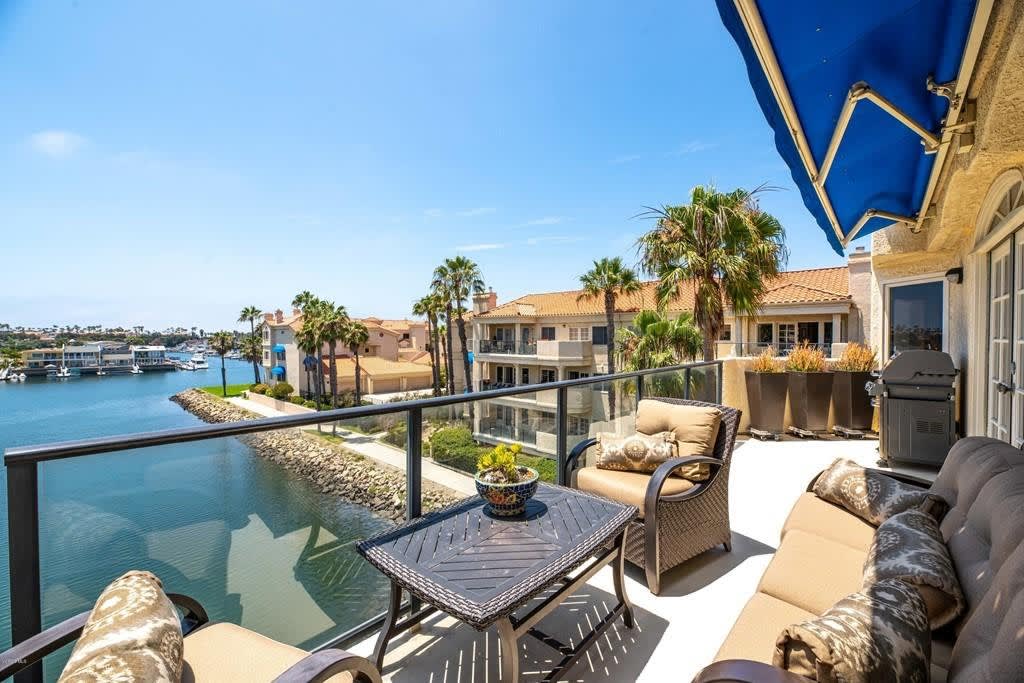 Cons
Sacrifice privacy:

If you buy property in an area that is popular with tourists, you may not enjoy as much privacy as you would with a home in a more secluded neighborhood.

Flood risk:

There is always a chance of flooding when you buy a waterfront home which could mean additional insurance costs.

Regulations:

Depending on where you buy, you may have to abide by certain commissions or organizations, such as a homeowner association, that must approve any renovation or expansion plans prior to going ahead with them.

Additional costs:

When you buy an Oxnard waterfront home for sale, you may need to put money into preventative measures such as storm-proofing and exterior finishes that are resistant to salt and sand damage.
Ways to invest in Oxnard waterfront homes
If you've decided that the pros are worth the cons—and want to move forward with investing in Oxnard waterfront homes—below are the best ways to do so.
Primary residence:

Living in your investment property full-time lets you enjoy all that Oxnard has to offer while also building equity. With its proximity to LA and Santa Barbara, it's possible to live in an Oxnard waterfront home and commute into the city—or work from home. Oxnard itself offers plenty of job opportunities including positions at

employers like Mission Produce and Haas Automation

.

Second or vacation home:

Buyers can also invest in an Oxnard waterfront home for sale as an escape from reality. Additionally, second homes in Oxnard can serve as vacation rentals through services such as AIrbnb for additional homeowner income.

Buy a rental:

Only a

little over half of the homes

are owned by their occupants in Oxnard, meaning there is a large percentage of renters in this area, which makes buying a rental property an excellent investment. Whether you choose to rent Oxnard waterfront homes short-term by listing them on vacation rental platforms such as Airbnb or renting them on a long-term basis, you will find plenty of interested guests who want to visit or live in this SoCal seaside oasis.
Hire an agent to buy Oxnard waterfront real estate
The best advice for anyone considering buying Oxnard waterfront homes is to work with a local agent who has experience buying and selling properties on the water. An experienced agent can help you identify the best properties based on how you plan to use your new home, then work with your budget to make the most competitive first offer possible. Once your offer has caught the attention of a seller and been accepted, your agent will be by your side during the closing process—and beyond.
When you're ready to buy beachfront luxury real estate in Oxnard, reach out to trusted local agent Ann Howarth for expert guidance through the entire house hunting and buying process.