Are you ready to embark on the exciting process of listing your home for sale? Whether you plan to relocate or you're downsizing or upsizing, selling your home efficiently and for top dollar is a high priority. Though the Oxnard real estate market
has been hot
, it's still essential to put your best foot forward when it comes to preparing your property for listing.
One of the best ways to ensure your home is ready for prospective buyers is to stage it. Some sellers choose to work with a professional staging professional to prep their homes for the market, while others opt for the DIY route. There are key tactics to employ when staging your home, regardless of which path you choose.
Tips for staging your Oxnard home for sale
Focus first on curb appeal
Every experienced Oxnard real estate agent will tell you most buyers form a first impression of a home before they even step foot inside. That's why boosting your curb appeal — the exterior parts of your house facing the street — is so important. To make sure your property makes the right impression, repair any visible signs of damage on your front porch, driveway, and front walkway, and ensure your lawn, trees, and shrubs are trimmed and tidy.
To boost curb appeal even more, consider painting or replacing your front door and, if you have one, your street-facing garage door. These are natural focal points for buyers, and upgrading them is one of the
highest ROI projects
you can accomplish when preparing your home for listing. You can also elevate the appeal of your home's exterior by placing potted plants or flowers along the walkway, arranging high-quality outdoor furniture on the front porch, and placing a cheery welcome mat in front of the door.
Remove large or excess furniture
When it comes time to shift your focus to the interior, Oxnard luxury homes with bulky or too much furniture can make a space look unpleasantly cluttered and cramped. During the staging process, go through each room and identify pieces that could be replaced with a smaller piece. In most cases, all you need is the furniture directly related to the room's purpose. A bedroom, for example, will likely only need a bed, dresser, and bedside table. Once you decide which pieces of furniture to remove or replace, put the unused items in a storage unit if you plan to take them to your next home or list them for sale. Browse our Properties page for examples of homes with market-ready interiors, including
128 San Nicholas Ave
.
Make sure each room has a clearly-stated purpose
One of the main goals of staging Oxnard luxury homes is to help prospective buyers visualize their lives in the space. To achieve this, you need to clearly state the purpose of each room. If you currently have rooms pulling double duty — such as a storage space and hobby room, consider making a change. Opt to stage it as a home office with a desk, comfortable swivel chair, and cabinets or as a gym with a treadmill, set of free weights, and a large mirror. With these transformations, potential buyers will have an easier time imagining how their lifestyle will fit into your home. One of our current listings,
398 North Loop Drive
, does a great job of helping potential buyers visualize themselves in the home.
Declutter and depersonalize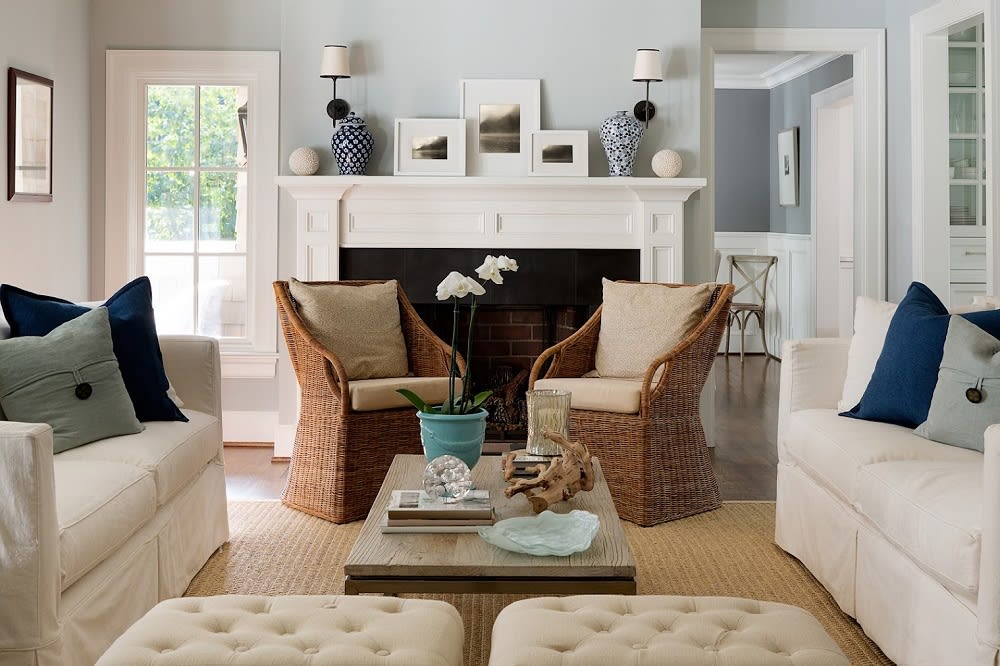 Nothing makes a worse impression on prospective buyers than clutter. If you've accumulated too much stuff over the years, now is the time to clear it out. Identify anything taking up an unnecessary amount of floor, wall, or counter space and put it in storage. If you no longer need it, consider donating it before throwing it out.
Once you've removed as much clutter as possible, turn your attention to personal items and mementos, which could be distracting for buyers. This includes framed family photos, religious items, and unique art or décor. Put these items in boxes and store them until it's time to decorate your next home. Removing these items will allow buyers to visualize decorating the space with their decorations and personal mementos instead.
Clean and organize storage spaces
Those interested in Oxnard luxury homes will be examining closets, pulling out drawers, and poking around the garage and basement to see how much storage your home has. A dirty, disorganized mess in any of these places will likely negatively impact a buyer's view of your home. Be sure to clean these spaces and put most of your items in a rented storage unit so you can keep these areas organized and tidy.
Address odors
Staging is not just about making your home look good—it's also about making sure other senses are taken into consideration as well. If your property has lingering odors from cooking, pets, or other factors, you need to address these before your first prospective buyer arrives. In some cases, you'll be able to neutralize smells with sprays, candles, or diffusers. In others, you'll need to get a professional carpet or upholstery cleaning or even repaint rooms where tough odors linger.
Maximize light
Oxnard luxury homes are stunning, and it's important to showcase their best features. To make them as welcoming and warm as possible, owners should maximize the amount of light each room gets. Natural light can be enhanced by removing heavy drapes or blinds and replacing them with sheer varieties. For those rooms which don't receive much natural light, extra floor or desk lamps should be added. Light bulb choice also matters—opt for
soft white or daylight versions
to enhance the visual presentation of your home.
Add finishing touches
Before your first showing or open house, you can top off your staging with a few little extras to make a stronger impression on a buyer. Place luxury towels and high-end bath products in the main bath, set the dining room table with fine dishes, linen napkins, and wine glasses, add cozy comforters and luxe pillows on the beds, and play relaxing music in the background. Also, consider including a few house plants, as these will give your home a bit more color and life.
Ready to list your Oxnard home for sale?
If you want to learn more about staging tips or are ready to put your Oxnard real estate on the market, reach out to
Ann Howarth
for expert guidance.