Along California's central coast, the beach town of Oxnard offers peaceful living and ocean views. Starting as an agricultural town, Oxnard has since grown into a sophisticated beachside community boasting pristine luxury living. Oxnard luxury homes are extremely desirable and property in the area is in high demand. Home prices have increased by 15% year-over-year, and the median sales price in Oxnard sits just below one million dollars. High sale prices and consistent demand for Oxnard real estate reinforces that this coastal town is one of the best places to live in California.

When it comes to Oxnard luxury homes, there are a number of different architectural styles from which you can choose — all of which give Oxnard luxury homes their own distinct feel and look. From the Mission or Spanish Revival style popular in Southern California to the Tudor Revival style more commonly seen on the east coast, you'll have your pick of architectural styles in Oxnard. Here are some of the most popular architectural styles you'll find in Oxnard.
Spanish Mission Style
The most common architectural style you'll see in Oxnard luxury homes is the Spanish Mission style. This style is heavily inspired by the churches and colonial sites built in California by Spanish missionaries during the late 18th century. This style is characterized by arched openings for windows and entrances, exposed rafters on overhanging roofs, and smooth stucco or plaster exterior walls. Homes designed in this style have curvilinear gables and feature tiled roofs, which are often made of red clay. Spanish Mission style interiors often feature dark, exposed roof beams and bright, decorative tiles incorporated into the walls and floors. Interior walls tend to match the exterior, in that both are generally made of stucco or plaster. Spanish Mission-style homes tend to look plain on the outside, though they sometimes boast a small bell tower. Oxnard luxury homes built in this historic style are meant as a nod to the state's Spanish colonial past.
Bungalow/Craftsman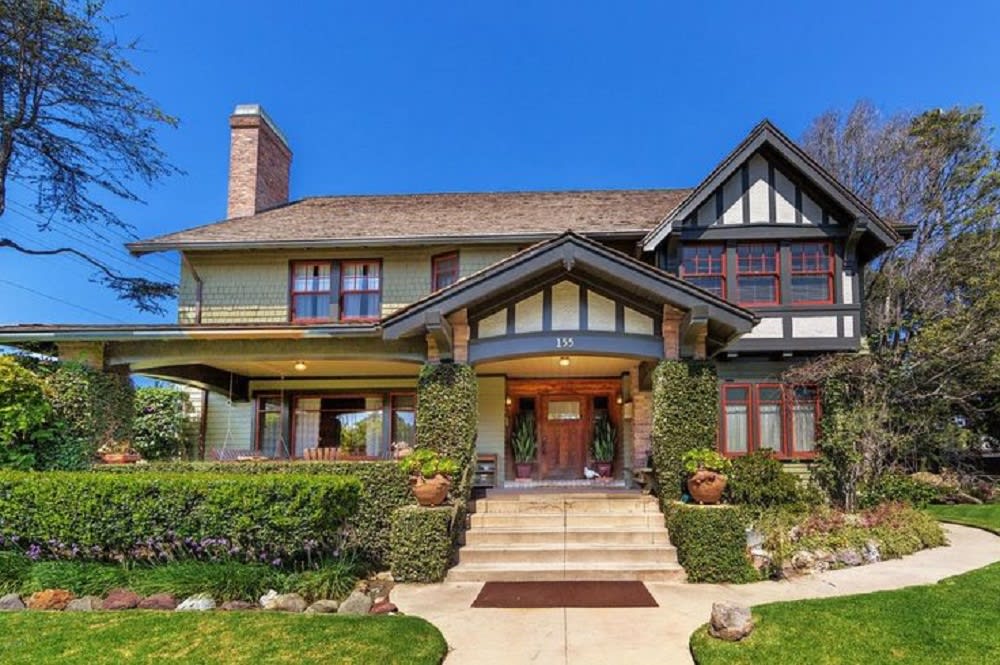 California Craftsman homes and bungalows have been popular throughout the state for decades, and Oxnard real estate is no exception. Elements of the Craftsman style are apparent in many Oxnard luxury homes. In the early 1900s, this architectural style took the country by storm. You can identify this style by its signature gabled roof with overhanging eaves and rafters exposed beneath, ornamental brackets, and columns added to support the roof and porch. Bungalow homes often incorporate multiple building materials, such as stone and wood. Craftsman homes first rose to popularity in England during the Arts and Crafts movement of the mid-1850s, and the style made its way to the States. Craftsman homes remain popular here to this day, and you can find several of these charming homes available on the Oxnard real estate market.
Colonial Revival
One of the most popular architectural styles in all of the United States, the Colonial Revival style is an American classic. Colonial revival homes are a tribute to the homes built in the original colonies by 18th-century English and Dutch settlers. The style was popularized in the early through the mid-1900s, and gorgeous colonial revival homes are still alive and well in Oxnard. Colonial Revival homes can be recognized by their shingled gable roofs, prominent front porches, decorative entrances, clapboard, shingle, and brick exterior. Some Colonials feature hip or gambrel roofs. Today's Colonial Revival homes are much larger than their original 18th-century ancestors. Their size and classic elegance make them the perfect Oxnard luxury homes.
Prairie School
The Prairie School architectural style had its beginnings in Chicago in the early 1900s. This style was built upon earlier styles that emerged from the Arts and Crafts movement. Prairie School style prioritizes an emphasis on nature, flat roofs with wide eaves, the incorporation of horizontal lines, and minimal decoration. Prairie School architecture was designed with the intention of creating an architectural style that was distinctly American. Since the style originated in the Midwest, the incorporation of horizontal lines symbolizes the flat vastness of the American prairie. Featuring streamlined elegance with classic simplicity, Oxnard luxury homes built in this style are examples of timeless architecture. While Chicago still boasts the highest number of Prairie School-style homes in the U.S., Oxnard has its share of these homes on the market.
Tudor Revival
Featuring multi-gabled roofs and ornamental half-timber framing, you'll know the Tudor Revival style as soon as you see it. Oxnard luxury homes in the Tudor Revival style look like they're straight out of a storybook. This architectural style was meant to capture the charm of medieval European country homes, and are characterized by their steep, multi-gabled roofs, decorative half-timbering, and asymmetrical build. American Tudor revival homes, including those in Oxnard, tend to feature brickwork exteriors that add to their Old World charm. The use of brick also enables the addition of a prominent chimney, which is another defining characteristic of this style. Tudor revival homes often have unique floor plans, so your home is likely to be one of a kind.
A real estate agent experienced in Oxnard real estate can show you homes with different architectural styles and help you choose the one that best suits your taste and lifestyle. Once you're ready to take the next step in purchasing an Oxnard luxury home for sale, reach out to a local Oxnard realtor like
Ann Howarth
. Ann can guide you through the home buying process and help you secure the Oxnard home of your dreams.